M-CKD Precision SDN. BHD.
Lot No.6, Jalan Modal 23/2, Seksyen 23, Kawasan, MIEL, Fasa 8, 40300 Shah Alam, Selangor Darul Ehsan, Malaysia
+60-(0)3-5541-1468
+60-(0)3-5541-1533
sales@mckd.com.my
www.mckd.com.my
Incorporated in Malaysia since 14 August 1984, M-CKD Precision Sdn Bhd has its headquaters located in Shah Alam with 2 other branches stretching from Johor and Penang. M-CKD is keenly affiliated with CKD Corporation in Japan, which export, distribute and manufacture CKD industrial automation and system solutions via an extensive range of products related to Clean Air System, Pneumatic Valves, Cylinders, Auxiliary components and many more.



M-CKD prides itself in attaining customer service excellence and has strived relentlessly to deliver satisfaction to customers, in hopes of rendering life more convenient and comfortable, thereby elevating the advancement of human society.
Specialized Products Training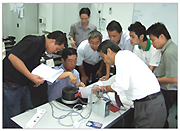 M-CKD has always been anticipating the changing times and adapting our various automatic machinery and automation products to meet the changing needs.
CKD has designed and manufactured a comprehensive range of specialized products training. We provide door-to-door demonstration at customer's place.
More Information
CKD Malaysia branches
Head office
Lot No.6, Jalan Modal 23/2, Seksyen 23, Kawasan, MIEL,
Fasa 8, 40300 Shah Alam, Selangor Darul Ehsan, Malaysia
+60-(0)3-5541-1468 | +60-(0)3-5541-1533
sales@mckd.com.my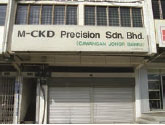 Johor Bahru Branch Office
116 & 118, Jalan Rosmerah 2/17, Taman Johor Jaya, 81100, Johor Bahru, Malaysia
+60-(0)7-352-9129 | +60-(0)7-352-9144
jb-sales@mckd.com.my
Penang Branch Office
NO.2678, Ground Floor, Jalan Chain Ferry, Taman Inderwasih, 13600 Prai, Penang, Malaysia
+60-(0)4-3999611/3981511/390371 | +60-(0)4-3909811
png-sales@mckd.com.my