Main Products
We offer a broad range of technologies and various kinds of products.
We help various industries by providing a wide range of applied and advanced proprietary technologies.
Since its inception, CKD has researched and developed various kinds of products while constantly predicting and meeting future needs as a pioneer in automation technology. Today, our product lineups have tens of thousands of items, and we play an active role in a broad range of industrial fields. With our comprehensive technological strengths, we can develop creative products in cohort with customers.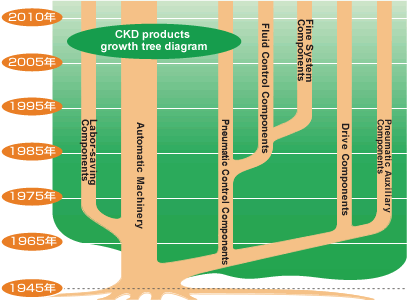 Click the product names for details.
Automatic Machinery
Our cross-industrial lineups of automated machine systems include "systems for making lamps and bulbs" (inheriting CKD's founding tradition), "automatic packaging machines" (mainly for pharmaceuticals and foods), and "secondary battery manufacturing systems" and "solder paste inspection machines." CKD is pursuing factory automation in the form of unmanned processes and quality improvement, by taking from these applied technologies an electronic eye that enables "measurement and inspection by image processing and recognition."
Lithium-ion battery winding machine
Solder paste inspection machine
Automatic pharmaceutical packaging machine
Automatic food packaging machine
Labor-saving Components
We have always had this long-term theme for the development and manufacturing of automated devices -- "Higher precision, faster operation and lower costs." Valuing this perpetual theme of ours, we have created labor-saving components that reflect our original viewpoint and technological strengths. These products are based on customer needs. The lineup includes "Index Units," "Direct Drive Motors" and "Pick and Place Units" that can effectively pick up work pieces with the highest degree of performance in terms of control, output, rigidity, speed and smoothness.
Index units
Direct drive motors
Pick and place units
Pneumatic Control Components
CKD's pneumatic control components control the air flow used to drive control valves and cylinders including electro-pneumatic regulators and valves for open networks. CKD is developing automated systems to meet a wide range of industrial needs, while incorporating "air pressure technology" to promote environmental protection and energy-savings from a practical viewpoint. CKD will continuously develop new products to meet the market's exact needs as a pioneer of the pneumatic technology.
3- and 5-port pneumatic valves
Directly operated 3-port valves
Drive Components
CKD's drive components, such as pneumatic cylinders and electromotive actuators, are actively used in a wide range of industries as a substitute for human hands and feet since these products enable automation easily and economically. While developing automated systems to meet a wide range of industrial needs, CKD is incorporating "air pressure technology" to promote environmental protection and energy-savings from a practical viewpoint. We will continuously strive to develop new products while meeting the market's exact needs as a pioneer of pneumatic technology.
Cylinders with multi-functions
Rodless cylinders
Electromotive actuators
Pneumatic Auxiliary Components
The manufacturing industry faces increasingly higher standards of quality control for compressed air products that require high flow rate, high cleanliness, low noise and efficient energy-savings . CKD is earnestly expanding and enriching the variety of peripheral system components and cultivating new needs by making the best use of its plethora of achievements and knowledge related to the development and manufacture of clean air systems and pneumatic auxiliary components. We have so far developed "FRL Units" and "Refrigerated Air Dryers" (Zero Aqua G Series) with a zero coefficient of ozone disruption.
FRL Unit
Electronic devices
Dryers
Fine System Components
The electronics industry that produces devices such as semiconductors and liquid crystals has made consistent progress. Factories must have a clean environment for manufacturing, clean manufacturing equipment, and clean devices. We are continuously challenging the difficulties of "ultra-high level process control" and unlimited cleanliness support for an endlessly evolving electronic device industry by providing various equipment used to manufacture semiconductors and liquid crystal devices from the supply systems to the exhaust systems.
Chemicals valves
Integrated gas supply system
Vacuum pressure proportional control system
Fluid Control Components
CKD's core technological field lies in developing units and systems to control and efficiently utilize fluids such as water, air, gas, steam and oil. We have made not only various kinds of valves and unit system components but also environmental protection equipment such as greenery water spray systems, dust collector control systems, gas combustion systems, washing equipment and water treatment systems. Our business fields are expanding without limit.
The concept of CKD's fluid control components is high quality and wide variation.
Directly operated 2- and 3-port valves
Water-related components
Life science components